 Looks can be deceiving !
Our clinic is set up in a building that looks like a regular house from the outside . inside you will find a very comfortable atmosphere and we have all our latest technology to help us deliver the highest standard of service to our patients in a very relaxed environment.
Our team delivers very advanced treatments which include CAD CAM , Dental implants , Orthodontics , invisalign and Esthetic Dentistrtry as well as preventive dentistry for children and adults .
Come see for yourself how we are different . you can arrange a tour of our clinic and discuss services we offer by calling our office .
Dr Ali Safaei DDS.
Dr Ali Safaei Has Graduated Dentistry in 1991 From University of Tehran. After graduating Dental School he worked in orthodontic specialty clinic and also in periodontics gathering experience while contemplating which areas of Dentistry he would be more interested to pursue.
" after years of working as a general dentist and attending hundreds of hours of continuing education in different areas of dentistry, seeing the constant change that happens in our industry , I am happy about my practice of general dentistry.
It has been exciting era in our industry with the new technologies and treatment modalities such as implants , invisalign, Cerec , Cad Cam ,CT scans , lasers etc.
These have transformed how we think about oral health and delivering the services to our patients. "
Dr Safaei moved to Vancouver and has been practicing in lower mainland since 1999.
He is constantly involved in continuing education in areas of implant Dentistry and orthodontics as well as CAD CAM and technology in dentistry.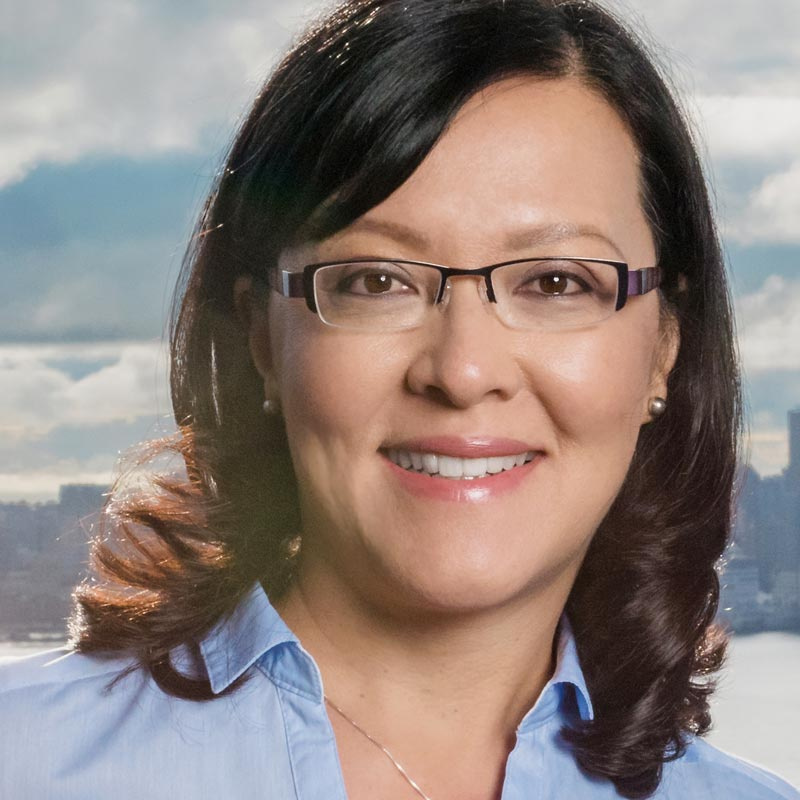 Dr. Erika Komagata
Dr. Komagata received her dental degree in 1988 from Sao Paulo State University in Brazil. She worked in private practice and was on the board of directors of APCD Saude Dental Association. She subsequently completed a residency program with extensive research in Prosthodontics at Niigata University, Japan.
Her experience in the Japanese mercury-free dental school motivated Dr. Komagata to learn about Biological Dentistry. She continues to upgrade her knowledge in this area, always on the lookout for the latest technologies and mercury-free dental materials with the aim of offering the best biocompatible options to her patients.
Erika has been offering patient-oriented comprehensive family dentistry ever since moving to Canada in 1995. She takes great pride in taking care of her patients, with a significant number of them having been with her for many years. She prioritizes patient education, trust and open communication to maximize oral care.
At WhiteHouse Dental Center, Dr. Komagata focus on Preventative, Restorative and Cosmetic Dentistry. She has a keen interest in Sleep Apnea and has attended study clubs and lectures in order to keep updated with oral appliance therapies.
She is a member of the Canadian Dental Association, American Dental Association and Academy of General Dentistry.
Outside her professional activities, Erika enjoys traveling to sunny locations and playing golf with her family and friends. In 2014, she took a year sabbatical in Arizona where she studied fitness and nutrition.
Erika speaks English, Portuguese and Spanish and always welcomes new patients with a passion for giving them the smile they've always dreamed of.
Add a brief description here or some details about the product or service that the customer can relate to. Visitors respond positively to images, and are more likely to interact with a website that has a good balance of informative pictures.
Alicia RDH Dental Hygienist
Rose CDA Receptionist
Jenn CDA
Kara CDA
Click to add an engaging title. High quality images go a long way in looking professional online.